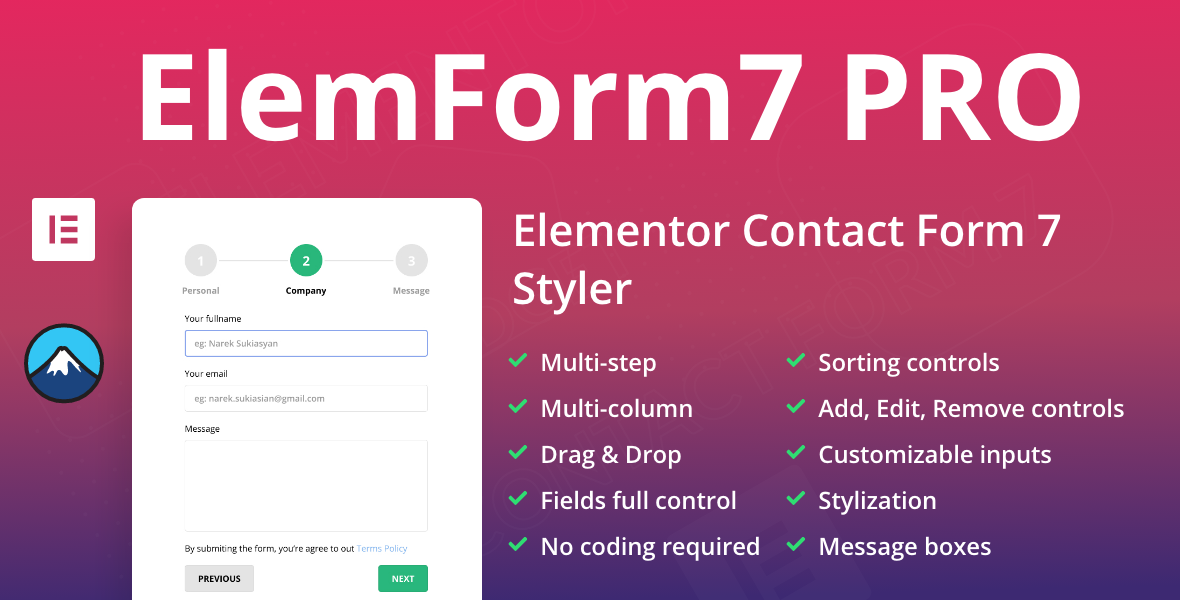 Creating a contact form for your website can be a hassle. But with the ElemForm7 PRO widget, you can easily build, customize, and add various functions to your contact form page. With our customization options, you have full control over your contact forms, allowing you to tailor them to your exact needs. No need to spend days coding – simply use our drag-and-drop Elementor Widget for a fast and efficient way to create your contact form.
Elementor Contact Form 7 styler: Simplify Your Contact Form Creation
If you want to control all aspects of your contact form 7 from Elementor, 'Elementor Contact Form 7' plugin is the solution for you. You can add, edit, order, and remove fields. Create multi-step, multi-column forms with drag-and-drop Elementor builder. No need to install the Elementor Pro version. This widget is working perfectly with Elementor free version.
Multi Column
The primary benefit of this plugin is that you can create multi-column forms without any coding. The multi-column forms are responsive and can easily adapt to any screen size. Using percentage options you can customize the column sizes to suit your exact needs and stylistic preferences.
Multi-Step
The multi-step function allows you to divide the application or registration process into several sections. This is very convenient for your applicants as having too many inputs can be overwhelming. By dividing the contact form into several steps, you can make the application process easier. You can also stylize the label for each step in the multi-step process.
Customizable Inputs
Using Elementor you can easily control and sort the inputs without any coding. You have access to functions like adding, removing, or editing inputs.
Stylization
The plugin gives you countless options to customize the input fields, and their style (such as borders, border colors, shadows, background colors, text colors, text highlights, etc.). This gives you plenty of opportunities to make the contact form something truly unique.
Message Boxes
Fully customizable message boxes where you can customize the positioning, alignment, style, borders, border colors, text, text backgrounds, etc. Error messages can be customized in a similar manner, along with the feature of appearing under specific inputs.
Features:
Elementor Widget for Contact Form 7
No Coding Required
Multi Step Format Available
Multi Column Input
Responsive, Fits Perfectly On Any Screen
Sorting Inputs and easy-to-use control over variables
Add, Delete and Edit inputs using Elementor tools
Easily create multi-column forms from scratch
Full Customization and Stylizing